I'm Steve Tyson. After much careful consideration, I have decided to run for the N.C. House, District 3.
I'm running because I feel my background and life experiences give me the insights necessary to be a strong advocate for the people in Craven County.
In the days and months ahead, I will be seeking your input about problems we are facing in Eastern N.C.
Visit us on Facebook at @TysonForNCHouse and at TysonForNCHouse.com to learn more about my position on important issues.
Tom Braaten has agreed to be my Campaign Manager. We have worked together on various projects over the last 15 years. Our campaign will be based on solutions, not slogans and worn-out platitudes.
___________________

Check out our Voting Info page for important information about voting in North Carolina and Craven County in November 2020 Be well informed and share this information with your friends. Your Vote Matters!
News
Monday, September 28, 2020 11:50 AM
NFIB North Carolina PAC Endorses Steve Tyson for House District 3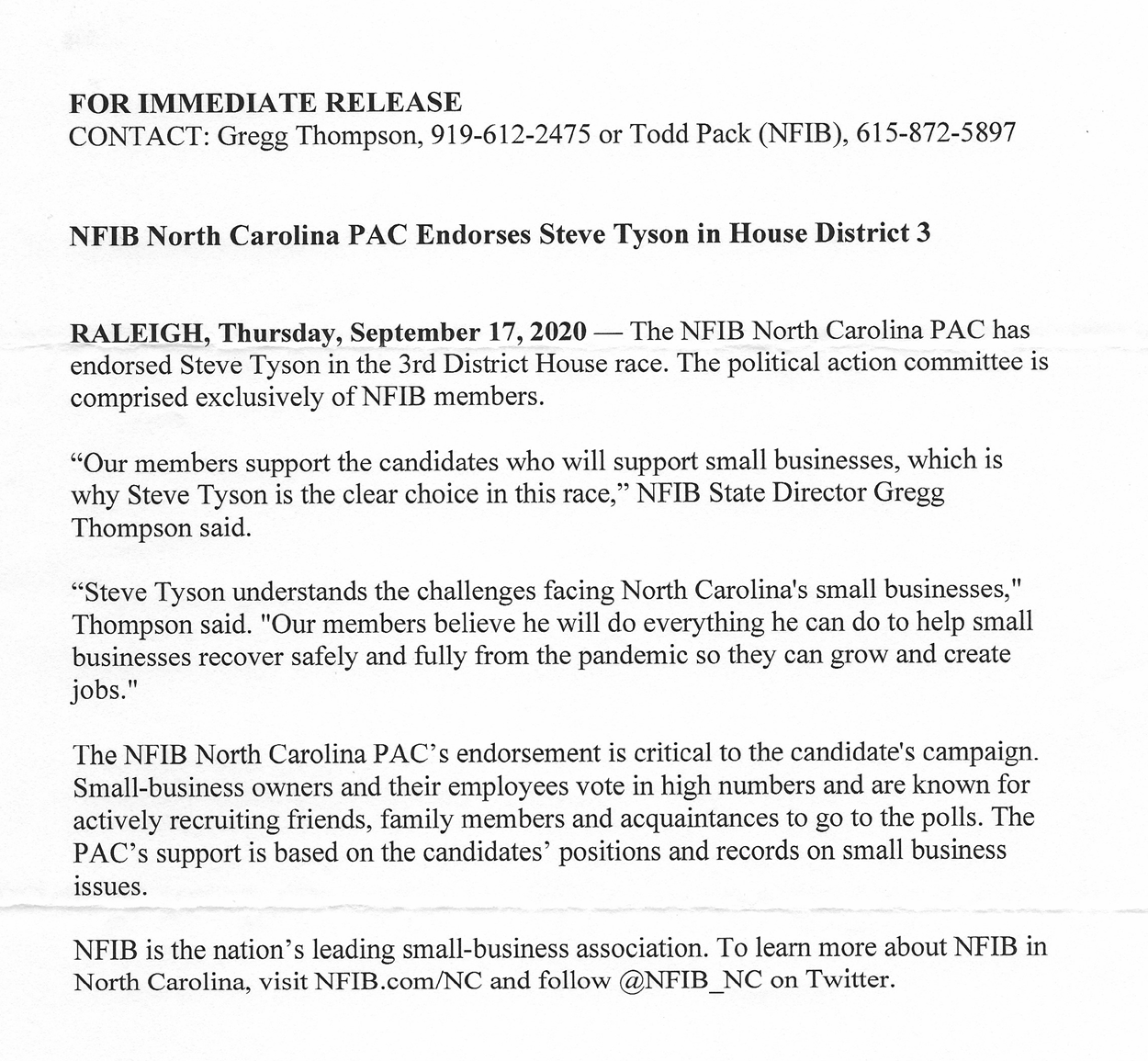 ---
Tuesday, December 3, 2019 12:00 AM
Locally, Republican candidates Steve Tyson of New Bern and Jim Kohr of Havelock have filed for the District 3 N.C. House seat currently held by Republican Michael Speciale, who has given notice that he will not run for reelection in 2020.

Tyson, the owner of Tyson Group Realtors in New Bern, served on the Craven County Board of Commissioners for 12 years and twice served as chairman.

"I am running because I believe I have the experience and background to bring good representation to the citizens of Craven County," he said. "What I hope to accomplish is to make sure the people in District 3 have a strong voice in Raleigh that represents this area."
---
Friday, March 29, 2019 3:58 PM
Despite the challenges, Tyson said the thought of leaving his hometown for a larger real estate market has never crossed his mind.

"I love my hometown and I really love the people here. We have people from New York or Ohio or Colorado and a lot of them are just so skilled. They were professional people or they were already involved in arts and entertainment, and I just enjoy working with people like that."